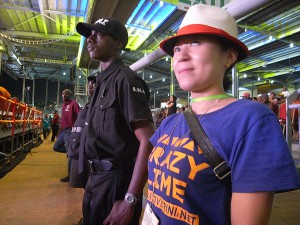 無事にTRINIDAD & TOBAGOに着きました。
STEEL PAN 世界最大の大会 "Panorama"準決勝を見に行ってきました!
準決勝(large Band)を1位で通過したのは日本人も多く参加しているband,
Phase II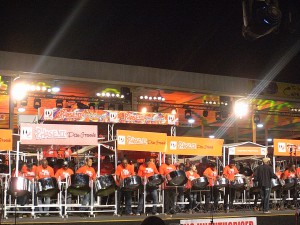 現地の新聞の1面にも取り上げられました!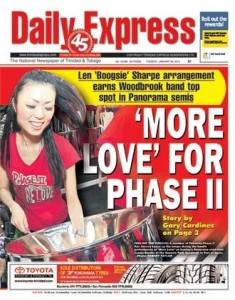 音源はこちらより高音質で聞く事が出来ます!
 Presents By : PANPOT
http://www.reverbnation.com/pantrinbago
1/26(sat)27(sun)と2日間で繰り広げられた準決勝。
全てのBandは生で見られなかったのですが、この大会は何度見てももっと見たい!ずっと聞いていたいって思う。
特に100名近くで演奏するlarge bandはここに来ないと体感出来ないものなので
是非機会があれば訪れて体感して欲しい。
※大会にはカテゴリーがあり、SINGLE ,SMALL, MEDIUM,LARGE,と分けられています。
以下、準決勝の結果です。
Official 2013 T&T Panorama Semi-Finals Results
SMALL BANDS RESULTS
1. Laventille Serenaders 276 "Hammer Time" Arddin Herbert
2. Supernovas 269 "Gold" Amrit Samaroo
3. Codrington Pan Family 268 "She Ready" Cary Codrington, Khari Codrington & Keisha Codrington
4. Arima Golden Symphony 267 "We Come Out to Play" Terrance "BJ" Marcelle
5. Cocorite West Wind 265 "I Music" E. Raymond
6. Golden Hands 263 "Gold" Vanessa Headley
6. Old Tech 263 "Shock Attack" Sean Ramsey
8. Tornadoes 258 "Not a Pan Tune" Shervon "Shev" Edwards
9. Tamana Pioneers 257 "Gold" Andre White
9. Fascinators Pan Symphony 257 "Tell Dem" Daryl Reid
9. Merrytones 257 "Champions" Richard Gittens
Following are remaining bands in this "Small" category which did not make the cut to move on.
12. San City Steel Symphony 256 "Iron Man" Damian St. Clair
13. New East Side Dimension 255 "Lorraine" Marlon White
14. New Generation 251 "Steel On Wheels" Cheo Cato
15. West Stars 247 "Gold" Lincoln "Fats" Waldron
16. Musical Gems 243 "Pan In Danger" Renwick Lewis
17. Simple Song 240 "Mash Up de Stage" Curtis Marcelle
17. Tobago Pan-thers 240 "Iron Man" Gerard Balfour
19. Pandemonium 239 "Melosian Rhapsody" Kwesi Paul
20. Southern Marines Steelband Foundation 238 "Is the Pan in Me" Malomo Joseph & Akinola Sennon
MEDIUM BANDS RESULTS
1.(271pts) Buccooneers "Gold" sung by Machel Montano & Friends & arranged by Seion Gomez
2.(268pts) Sound Specialists of Laventille "Long Time" sung by Arrow & arranged by Ken Philmore
3.(266pts) Couva Joylanders "Band From Space" sung by Crazy & arranged by Kenneth "Panam" Clarke
4.(262pts) Pan Elders "We Come Out To Play" sung by DeFosto & arranged by Duvone Stewart
5.(258pts) Katzenjammers "Kershorn – The Javelin Champion" sung by Eunice Peters & arranged by Len "Boogsie" Sharpe
6.(255pts) Curepe Scherzando "We Come Out To Play" sung by DeFosto & arranged by Yohan Popwell
6.(255pts) Dixeland "Shock Attack" sung by Denyse Plummer & arranged by Leon "Smooth" Edwards
8.(254pts) Valley Harps "More Love" sung by Black Stalin & arranged by Michelle Huggins–Watts
9.(249pts) Arima Angel Harps "We Come Out To Play" sung by DeFosto & arranged by Shelton C. Besson
10.(248pts) Steel Xplosion "Tell Dem" sung by Black Stalin & Steve Sealy & arranged by Terrance Marcelle
11. Sangre Grande Cordettes "Champions" sung by Chucky & arranged by Anders Kappel Øvre
12. Power Stars "Shock Attack" sung by Denyse Plummer & arranged by Arddin Herbert
13. Melodians "My Band" sung by Emmanuel "Oba" Synette & arranged by Amrit Samaroo
14. Pamberi "Wettin'" sung by Kerwin DuBois & arranged by Cheo Cato
LARGE BANDS RESULTS
1.(273pts) Phase ll Pan Groove "More Love" sung by Black Stalin & arranged by Len "Boogsie" Sharpe
2.(272pts) Exodus "Gold" sung by Machel Montano & Friends & arranged by Pelham Goddard
3.(271pts) Trinidad All Stars "Bounce & Drive" sung by Blaxx & arranged by Leon "Smooth" Edwards
4.(270pts) Desperadoes "Hammer Time" sung by Nicole Greaves & arranged by Robert Greenidge
5.(265pts) Invaders "Dat Is Lie" sung by Rembunction & arranged by Arddin Herbert
5.(265pts) Silver Stars "Shock Attack" sung by Denyse Plummer & arranged by Edwin Pouchet
7.(264pts) Fonclaire "Addicted" sung by Destra & arranged by Ken "Professor" Philmore
7.(264pts) Renegades "Shock Attack" sung by Denyse Plummer & arranged by Duvone Stewart
7.(264pts) Skiffle Bunch "Sapna (The Dream)" sung by Gerelle Forbes & arranged by Ray Holman
10.(255pts) Redemption Sound Setters "More Than An Oil Drum" sung by Joanne Foster & arranged by Winston Gordon
11.(254pts) Tropical Angel Harps "No Getaway" sung by Blaxx & arranged by Clarence Morris
12.(253pts) Starlift "Bounce & Drive" sung by Blaxx & arranged by Gerard Clarke
13.(248pts) La Brea Nightingales "Bubble" sung by Iwer George & arranged by Terrance Marcelle
14.(245pts) Birdsong "The Last Word" (Instrumental) composed & arranged by Andy Narell
14.(245pts) Harmonites "More Love" sung by Black Stalin & arranged by Seion Gomez
16.(239pts) Siparia Deltones "Blackman Feeling To Party" sung by Black Stalin & arranged by Carlton "Zanda" Alexander
17.(219pts) Humming Bird Pan Groove "Haunting Melody" (Instrumental) composed & arranged by Michael Cupidore
またレポします!